Popular BILL COWSILL's dates are sometimes rather unique. His home of Newport, Rhode Island is so small that when he dates there, he generally runs into his parents. Of course, the two couple end up "doubling." It all goes to show you that the family that sings together swings together!!!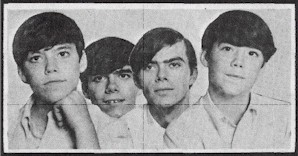 THE COWSILLS
All The Cowsill children were brought up on the premise that love conquers all. This is the philosophy of Poppa Bud. He's raised an entire family on just one word, the key word - love. Poppa feels that if he slips up in some other area, love will cover it! Three of the singing boys were born in Rhode Island - Bill in Providence on Jan. 9, 1948, Barry in Newport on Sept. 14, 1954 and John in Newport on March 2, 1956. Portsmouth, Virginia born Bob entered this world on August 26, 1949. The lovin', young guys are single, of course!
Write to them at Leonard Stogel, Ltd., 888 8th Avenue, N.Y.C.