The Cowsills Own Private Family Album
June 1968
Teen Life Magazine

Photos
You've
Never
Seen
Before!

The Fabulous Cowsills have endeared themselves to practically everyone's hearts within a very short time.

Everywhere they go, now that fame has burst upon them, the family from Rhode Island is photographed, fussed over ... and just plain loved!

But that hasn't changed Bud or Barbara Cowsill or any of their talented kids. Not in the least bit.

Susy, John, Barry, Bill, Bob, Paul and Dick Cowsill still join in with mom for chores - or fun! Just as they always have.

And many of those times that mean so much to a family - graduation, a holiday, or just a cute look - were faithfully recorded by Bud or Barbara.

The whole story starts with them, so they'll begin our sentimental journey through the years with the Cowsills ...
Barbara and Bud Cowsill (Mom and Dad) enjoy an afternoon in the park soon after their Ohio wedding in July, 1946.
On January 9, 1948, Bill - the first baby Cowsill arrived. Here he is at three months old.
Susan always blushes when she sees this photo of herself at the tender age of one! Susan was born on May 20, 1959.
Twins Dick and Bob were all of 18 months old when this cute pic was taken. Birthdate: August 26, '49.
As a youngster, Bill loved being taken for walks in his stroller. Here he's 14 months.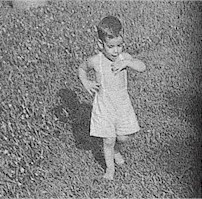 "Say - look at me!" yells Bob as he excitedly takes his first steps in the big world just after his first birthday.
At the age of two, Dick and Bob seem to be taking life very seriously! Don't they look darling?
Left to right: Bill (4), Bob and Dick (2) pose for the camera on their doorstep.
Susan, at eight months of age, happily posed for snaps. She loved having her picture taken!
Romping in the garden was always fun. Here, Barbara plays with Bill (5), Dick and Bob who are now three.
Handsome Bud, left, poses with a Navy friend before sailing off on another round-the-world voyage.

Home on leave, Bud takes the family to the beach. Left to right: Bob, Dick, Bill, Bud, Barbara & Paul.