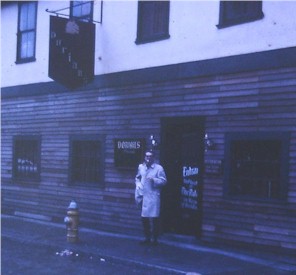 Dorian's in the 60's
photo courtesy of Donald Williamson
Based on a statement by Biggy Korn, I believe Dorian's may have opened as early as 1963, but it was July 22, 1965 when Newport Daily News sported an ad announcing 'A New Tavern Comes To Newport.' It's name was Dorian's at 285 Thames Street. The building was listed on the Historic District Commission's historic preservation list, listed as the Clark Cook House. The first owner of Dorian's that I could find was James Tsagaris. One June 6, 1965, Tsagaris had the liquor license transferred to himself from E. Comedor Inc. He leased the premises from the Newport Music Inc. which purchased the building in 1964. In a September 1965 hearing for liquor license Dean J. Lewis, attorney, appeared with James Tsagaris licensee, along with David Ray and Paul Schmitman, managers. After legal issues were straightened out, David Ray and Paul Schmitman formed Dorian Inc. and apply for a transfer of the license to that company. In January 1966, the liquor license was transferred to Dorians Inc. from Tsagaris and Dorianís was granted a dance license for one week at the motion of the mayor. By May 1968 Biggy Korn was listed as "operator of Dorian's," and by 1970, Dorianís was being called The Candy Store, the name that remains today.

The Club was open until 1 AM until August 1971 when city ordanices changed the time to 2 am.

Dorianís was a widely known establishment, well liked by the yachting crews involved in America's Cup competition. It hosted not only celebrity musicians, including Bob Dylan, Joan Baez, the Vanilla Fudge and The Cowsills, but also was the place to be for noted celebrities including Mia Farrow and Frank Sinatra, who appeared there on their honeymoon. The first band to perform here was The Invaders.

Ads show The Cowsills began performing here in September 1966. Bill, Bob and Barbara had a regular Sunday night gig singing folk sounds as 'A Family Scene.' They would play from 8 till midnight. A welcome home party was held for The Cowsills upon their return from their first national tour on November 3, 1967. The last reference to The Cowsills, that I find, is when they played there on Saturday, June 29, 1968. This gig also was the first time Paul performed at Dorian's.

Gary US Bonds ("New Orleans"), The Shades of Blue ("Oh How Happy"), The Orphans (which included Waddy Wachtel), The Bougalieu (a psychedelic/rock band from Albany), The Moppettes (an all girls group - and we know that John loves all girl groups hee) also perform here regularly during the late 1960ís.

Dorian's sponsored a softball team (I'm sure Paul enjoyed that!) which was later called the Baccari Barber team. They were responsible for selling nearly $200 in tickets for a fund raiser for the Retarded Children's Fund.

Dorian's wasn't without it's share of controversies. One big one was the ďnoise.Ē (How dare anyone call our Cowsills noise! hee hee) Mike Gordon was one neighbor who vigorously fought this battle. He even eventually tried the Navy angle to stop the music, alleging that the noise was hurting sailors hearing. In May 1968, the Navy commissioned a study to assay the effects. Several building alterations were proposed to help with this issue. In January 1966 it was proposed that the entrance be changed from Thames Street to Sayer's Wharf at the side of the building to try to control noise, but James O'Brien, attorney for Dorian's, said this wasn't possible because it would require a platform and the platform would impede passage of cars down the wharf. O'Brien suggest they install air conditioning so there would be no open windows. In June 1966 it was suggested that a back entrance be used instead of a front entrance. In March 1968, Dorian's granted another dance license despite noise complaints continuing.

Another target of controversy was David Ray. In March 1966 David was in the news. He had been arrested by Warwick Police for speeding with a suspended license and illegally possessing a central nervous system stimulant. In 1966 the City Council almost took away the liquor license due to these David Ray charges. He was found "probably not guilty" so the council dropped their investigation. In May of 1967 David Ray was arrested for dancing with a blonde on the service bar and threatening police when they responded. Eventually the club lost it license for a month due to this disturbance. In 1970 David was ordered to appear before the City Council to answer questions concerning transfer of the stock of Dorian's Inc to himself.

Still another spot on contention for Dorianís was the Department of Health Services. In May 1967, the City Council dismissed charges against Dorian's apparently brought on by state inspectors. This article didnít state the exact charges. On Monday September 11, 1967, Dorian's reopened after being closed twice during previous weekend by the Department of Health. It had been closed due to "sanitary deficiency" which was described as sewage leaking into the cellar. Another time they were in trouble for leaking sewage into the harbor.

A couple other problems included in November 1970 when it was closed for a month due to violations stemming from controversy over stock transfers, license applications and alleged debts, and in November 1971, a suspension of license of 3 days was upheld. This violation involved disregard of the 1 AM cut off (before the extension to 2 AM) .

By 1974, Dorian's had a reputation and not a good one. When a new Pub (Bojangles) was trying to open business, the neighbors fought it asking the city Council to "safeguard them against another Dorian's." They also told the Council they disapproved of the element that frequented Dorian's and has since migrated across the street to Point 'N' a Half. In March 1974, the Middletown Town Council granted a liquor license to the operator of a proposed nightclub in the former Beach Hotel. But first it warned him (Anthony P. Zaloumis) it will tolerate none of the noise or drug problems created by his last place (Dorian's).


From The Newport Daily News
| | | | |
| --- | --- | --- | --- |
| July 22 & 23, 1965 | November 20, 1965 | November 24, 26, and 27, 1965 | December 3, 1965 |
| | | | |
| --- | --- | --- | --- |
| December 22, 1965 | December 23, 1965 | January 7, 1966 | January 21,22, and 29, 1966 |
| | | | |
| --- | --- | --- | --- |
| February 2, 1966 | February 5, 1966 | March 2, 1966 | March 9, 1966 |
| | | | |
| --- | --- | --- | --- |
| April 6, 1966 | April 23, 1966 | July 22, 1966 | August 8, 1966 |
| | | | |
| --- | --- | --- | --- |
| August 9, 1966 | September 16 & 17, 1966 | September 22, 1966 | September 23 & 24, 1966 |



September 29 & 30, 1966
also October 1, 1966




October 8 & 11, 1966




November 23 & 26, 1966




November 26, 1966
| | | | |
| --- | --- | --- | --- |
| November 30 & December 2, 1966 | January 13, 1967 | January 14, 1967 | February 3, 1967 |
| | | | |
| --- | --- | --- | --- |
| February 4, 1967 | February 17, 1967 | March 31, 1967 | April 21, 1967 |
| | | | |
| --- | --- | --- | --- |
| July 28, 1967 | September 15, 1967 | October 6, 1967 | November 2, 1967 |
| | | | |
| --- | --- | --- | --- |
| November 3, 1967 | November 18, 1967 | November 25, 1967 | December 2, 1967 |
| | | |
| --- | --- | --- |
| February 14 & 16, 1968 | March 6, 1968 | May 18, 1968 |
| | | |
| --- | --- | --- |
| June 28, 1968 | July 17, 1968 | November 20 & 22, 1968 |
| | | |
| --- | --- | --- |
| September 17, 1965 | January 13, 1966 | January 20, 1966 |
| | | |
| --- | --- | --- |
| January 28, 1966 | March 24, 1966 | March 31, 1966 |
| | | |
| --- | --- | --- |
| June 30, 1966 | May 4, 1967 | June 1, 1967 |
| | | |
| --- | --- | --- |
| June 16, 1967 | July 19, 1967 | August 3, 1967 |
| | | |
| --- | --- | --- |
| September 11, 1967 | September 28, 1967 | February 27, 1968 |
| | | |
| --- | --- | --- |
| March 14, 1968 | March 20, 1968 | May 22, 1968 |
| | | |
| --- | --- | --- |
| May 23, 1968 | August 21, 1970 | October 23, 1970 |
| | | |
| --- | --- | --- |
| November 13, 1970 | August 27, 1971 | November 5, 1971 |
| | |
| --- | --- |
| March 5, 1974 | May 21, 1974 |